The Grey Lady Music Lounge, Tuesday 13th June 2017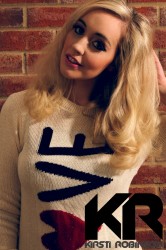 click to enlarge
Kirsti Robinson was dubbed as "the voice you could listen to all day" by BBC Radio 1's Annie Nightingale.
Starting as a session singer over ten years ago, Kirsti's voice has graced countless TV and radio adverts.The last few years have seen her and her band (Adam Ferguson and Dan Potter) perform at a number of iconic venues such as The Troubadour and The Bedford in Balham. They also supported The Darkness in front of 10,000 people and were hand selected by Pixie Lott to perform at an intimate event in London where Pixie called Kirsti's voice "amazing".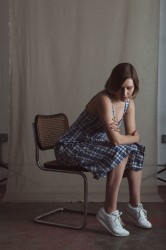 click to enlarge
Laura Lamn is a rapper and vocalist, with roots in Kent, who flowered out of South East's London urban landscape. Collaborating with producers in the UK and America; her sound is diverse, with tracks spanning genres- from hip hop to hip house to EDM. Her tracks have been spun on BBC Radio 1 introducing and BBC 6 Music.
"Absolutely mesmerising" -- Ally McCrae (BBC Radio 1)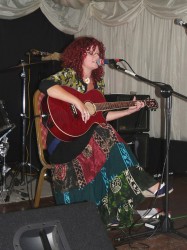 click to enlarge
Jill, a quirky and colourful singer/songwriter from Kent, writes songs that have stories about magic, passion and individuality. Singing from the age of 14 and studying music at Tonbridge, she changed from writing songs on the piano, to writing songs on the guitar after finding that not many open mic nights had a piano in situ (and finding that her Yamaha upright was too heavy to lug around!) With an immense nod for inspiration to Nina Simone and Aretha Franklin for their soul, Joni Mitchell for her story-telling and Tori Amos and Kate Bush for their quirkiness, her songs have echoes of the 60's and 70's folk-rock era and Jill often plays with the beautiful musician Thomas D Palmar, from the band Quarterlight.
Although wanting to combine her love of music with her other loves of photography and pottery, she felt it unwise to do all three things together (gets messy) and so follows her first love of music and continues to write songs to lift people up, create happiness, to show that not all of life has to be serious and to enjoy the simple, little things around us.
She has previously worked with Dan Arnold from 'Beneath The Underdog Studio' on a cover of a Judy Tzuke song and also with the Duo 'Post' on electronic/completely-turned-on-its-head versions of her songs and is always looking for people to collaborate with.