The Grey Lady Music Lounge, Tuesday 23rd May 2017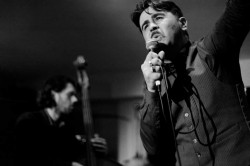 click to enlarge
Gabriel Moreno is a published poet and singer songwriter from Gibraltar. His songs fuse Mediterranean rhythms with Indie/Folk arpeggios performed with a classical guitar. Gabriel started his solo career in the UK in 2010 and has become an important part of the Alternative Folk scene in London. He is one of the key hosts at the acclaimed Lantern Society's music night at the Betsy Trotwood and a residence musician at the Karamel Club. Tonight he will be performing a selection of his songs and poems from his 8 collections of poetry and debut album Love and Decadence.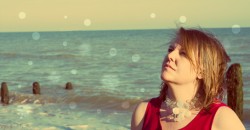 click to enlarge
Fans say that Joanne Louise Parker has a voice which "makes the hairs stand up on the back of your neck". A regular on the open mic scene, she can silence a room during performances of her a cappella songs. The past year has been spent recording her debut album "Moontide" along with Brighton based producer Max Gilkes which contains orchestrated evolutions of Joanne's original songs. Joanne has travelled extensively and performed her songs to audiences great and small from the West Coast of the US to as far east as Russia and recent support slot credits include Eliza Carthy, Gretchen Peters, Brian Kennedy and Jane Siberry.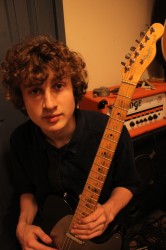 click to enlarge
Isaac Hopper is only 17 but he already knows an awful lot about guitars. He started learning to play at 10 years old and in the 7 years he has been playing, he has achieved Grade 7 Acoustic Guitar. When he was 12, he made a guitar out of a piece of old wood and some metal for a school project. He will make his debut at the Grey Lady this evening with a short set of instrumental arrangements.