The Grey Lady Music Lounge, Wednesday 11th May 2016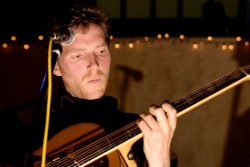 click to enlarge
I am a singer-songwriter living in Hastings and I have performed around the South East for 15 years or so, including in Brighton, London, Eastbourne and Hastings.
My songwriting influences include Nick Drake, Pink Floyd, Joni Mitchell, The Beatles,and Klezmer/ Gypsy music. I would describe my music as progressive/alternative folk rock. As well as writing my own songs I play a variety of different covers including my own arrangements of traditional folk songs from the UK, US and Europe.
I have recorded four self produced albums, 'The Nothing Machine' (2003), Ephemeral( 2005) 'Under the Sun (2009) and 'The Wishing Box' (2011) The latter two albums are available to download on Bandcamp.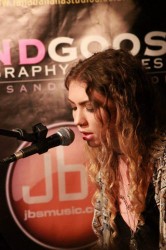 click to enlarge
Annie Chew is a singer-songwriter hailing from Tunbridge Wells. Annie has performed all over the south east including esteemed London venues such as The Pheasantry on Kings Road. Annie loves to perform at her home town venue, The Grey Lady Music Lounge and has been performing there for several years now. Annie's musical tastes are very diverse but she has often felt inspired by modern day artists including the likes of Adele, Norah Jones, Amy Winehouse, Tori Amos and Carole King. From September, Annie is set to study music at BIMM (British & Irish Modern Music Institute, based in Brighton) an she is looking forward to the prospect of working and studying with fellow musicians and songwriters. Annie says" I am really looking forward to joining the academy at BIMM, I believe this will prove to be the next step in my development as an artist and I am excited to see my writing evolve during the whole process. In the longer term I plan to release a recording of my songs and in the meantime will be focusing on my live shows and keep writing new material."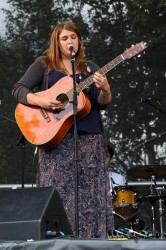 click to enlarge
Local songstress Josie Lee has established herself as one of the leading female artists at the Grey Lady. Her haunting vocals carry a unique pure tone that is full of atmosphere and feeling. She has produced a distinct medley of contemporary, melodic songs with influences such as Jeff Buckley, Tori Amos, Joni Mitchell and Nirvana. She originally started out as a solo artist playing regularly at various local Tunbridge Wells venues and has performed here at the show previously as a duo. Josie started university at Falmouth in late September 2008 where she is reading English and creative writing although she fully intends to keep her songwriting and singing ticking along in the process!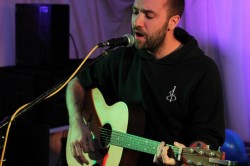 click to enlarge
Joe is the singer-songwriter behind popular local acts "Cyrano" and "The Ackerleys". His style combines rich vocals, poignant lyrics, catchy melody and folk/rock acoustic guitar. At the end of 2012, Joe toured with Level 42 backing Dan Clews. This included playing to full house at the Royal Albert Hall! He has just finished an album with Cyrano which will be released this year. He is also busy working on The Ackerleys first record. His solo set includes some brand new material plus a few stripped down Cyrano songs. Influences include – Elbow, The Beatles, Dawes, Jeff Buckley, Rufus Wainwright, Scott Matthews, Pearl Jam, Crowded House and Radiohead.