The Grey Lady Music Lounge, Sunday 4th May 2014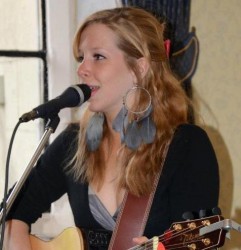 click to enlarge
Poppy Raine, previously knowns as Poppy Alice, is a local singer/songwriter from Kent with an exceptional voice and talent for writing a variety of songs that reflect her thoughts and ideas. With influences including Ed Sheeran, Hozier, Adele and Eva Cassidy to name a few, her range of emerging songs are an eclectic mix of styles centred around an acoustic/soul genre. Performing since she was 16, Poppy Raine has been delivering her emotionally powerful performances at numerous festivals, pubs and private functions accompanying her vocals with her beloved guitar.
Following her travels around Australia and New Zealand, Poppy is currently studying songwriting at the Institute of Contemporary Music Performance in London where she is finding a new love for an extensive range of musical styles. She is currently writing her debut album following the success of her sell out EP 'Just As I Am' which was released in the Summer of 2012. So sit back an enjoy a mix of songs about Poppy's two favourite things: love and cake.
Find her on Facebook, Twitter or Soundcloud.

click to enlarge
Cracks In The Land are a band with a love of tight grooves, 3 part harmonies, big melodies and guitars. Their influences meander from Fleetwood Mac to Crowded House, detouring to make no two musical journeys the same.

The band formed at the end of 2013, had a few lineup changes, produced an E.P. "Beautiful Parade", supported Cutting Crew, appeared in several festivals, radio and played gigs in London and Berlin. In 2014 with the arrival of Bill and Ben :), on guitars and percussion the sound was complete.

With a big bag of original songs, they will be recording early in 2016 but at the moment are having a blast gigging and experimenting with live sound.

Check out our facebook page to keep in touch with upcoming gigs and random classic cover versions.

Cracks In The Land are Bob Melrose - guitar,vocals, Meya Rein - vocals, Ben Armstrong - percussion,drums, Bill Burke - guitar, vocals.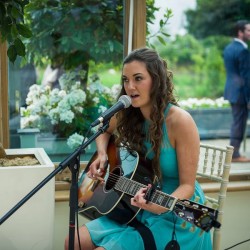 click to enlarge
I've been performing in public for around five years now and after my GCSEs I joined The BRIT School to focus the majority of my time on the study of music, alongside Spanish A Level. Over the past couple of years I have begun to write my own songs, performing them at local open mic nights, bars in Cyprus during the summer and in local talent competitions. I've even had the honour of performing an original song in front of David Cameron! Later on this year, I look forward to studying a Professional Musicianship vocal degree at BIMM in Brighton.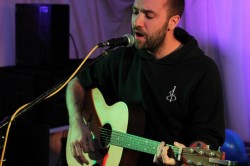 click to enlarge
Joe is the singer-songwriter behind popular local acts "Cyrano" and "The Ackerleys". His style combines rich vocals, poignant lyrics, catchy melody and folk/rock acoustic guitar. At the end of 2012, Joe toured with Level 42 backing Dan Clews. This included playing to full house at the Royal Albert Hall! He has just finished an album with Cyrano which will be released this year. He is also busy working on The Ackerleys first record. His solo set includes some brand new material plus a few stripped down Cyrano songs. Influences include – Elbow, The Beatles, Dawes, Jeff Buckley, Rufus Wainwright, Scott Matthews, Pearl Jam, Crowded House and Radiohead.