The Grey Lady Music Lounge, Sunday 22nd September 2013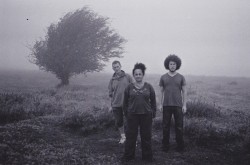 click to enlarge
Urban folk band Shadrack Tye are all members of the same family based in south London. Since the Autumn of 2010 they have been playing in both duo and trio line-up, delighting and exciting audiences and promoters alike. Their combined talents and eclectic musical taste creates a fresh, energetic approach, often with a bit of a twist! Sam's rock inspired riffs and innovative jazz harmonies blend beautifully with the skill and finesse of Tina and Paul's classical training. Together they perform original songs as well as re-workings of folk, traditional and more contemporary music, pulling the audience into a rich musical landscape. Singer-songwriter Tina draws inspiration from life's emotional tapestry, writing songs that showcase her expressive voice and wide vocal range.
Shadrack Tye's reputation continues to grow at folk clubs and music festivals in London and across the country A couple of highlights from the last two years include being invited by Sam Lee to play in the Folk Rising series at Cecil Sharpe House, and a booking for the Purbeck Festival after an extremely successful debut at the Bournemouth Folk Club. In 2011 they self-released their first EP Tthe Lovers Tale".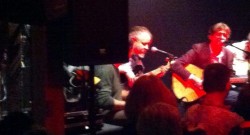 click to enlarge
Simon and Matt from "The Reverend Eli Finnegan" played in bands back in their youth, mainly "The Outsiders" in the late 1980's and early 1990's culminating in some headline gigs at The Marquee Club in London and shows at Dingwells and The Borderline, and a Radio 1 live Maida Vale session.

Their self produced and promoted single "Handfuls of Nothing" received plays on national Radio including Radio 1, London Radio and Capital Radio and favourable reviews in the music press. Matt then took time out to have a family and the pair resurfaced in 2012 to start to write and play new and old songs as "The Reverend Eli Finnegan". Simon in the interim developed a deep interest in world music and the visual arts and particularly "African drumming".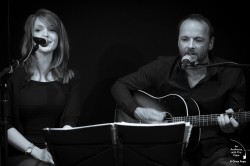 click to enlarge
Chiddingstone based duo Ant & Fie are Anthony Vicary (guitar and vocals) and Fiona Keeler (vocals & Piano.) Anthony was previously the frontman of local indie/rock band 'Catching Flies'. After five years of rigorous performing all over the southeast it was decided that the band had reached a natural end leading Anthony to put down his electric guitar and explore the acoustic side of rock music. With Fiona joining more recently, this talented duo have fused together to emerge as one of the most talented and highly respected acts at the show here at The Grey Lady. Their breathtaking vocals express creative and thought provoking lyrics coupled with crafted melodies which comprises elements of folk, blues and alternative acoustic rock. The duo enjoyed their radio debut earlier this year with a recent live performance of 'Tobacco Stained Guitar' on BBC Radio Kent. They have just released their debut EP entitled 'The Quiet'.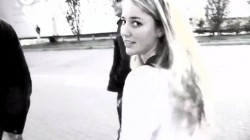 click to enlarge
'When people ask me to describe my music, I'm never quite sure what to say. The truth behind the method is that I never think about what I'm going to play before I play it. I rarely write my lyrics down or chord progressions (most of the time I'm not 100% sure what chord I'm actually playing). I guess my style is improvisational music that sticks in the head (or at least sticks in my head). I grew up on Macy Grey and Gabrielle; although I'm not quite sure that comes across in my music. My interests have spread more recently to bands such as Bon Iver, The National and Kate Rusby. I started playing my own songs when part of a three-girl harmony group in London, we played at various venues (such as the Embassy club) and went on to win the Kings College London Battle of the Bands in 2010. I went on to play as a solo artist when I studied abroad at the University of California, Berkeley. I now work in TV and enjoy making art; I paint, animate, film and have always loved music.'