The Grey Lady Music Lounge, Wednesday 8th May 2013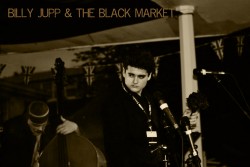 click to enlarge
Billy Jupp is a songwriter from Kent. His music is heavily influenced by the likes of Tom Waits, Kurt Elling, Dr John, Bill Withers and many others. He and his band of inspiring musicians (The Black Market) are currently working toward the release of their Debut Album, recorded in a wooden shack full of a whole bunch of weird and wonderful instruments. This album seeks to explore the underbelly of human society, concentrating on the dark and extensively bad side of our nature. Keep your ears to the ground! Two live and FREE singles are now available on the website and on Bandcamp.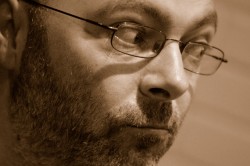 click to enlarge
Tom McHugh was born in the early sixties in a house on a road near a canal in the midlands black country. After school he went to London. Then he got work in the steel industry. Tom started to write songs about twenty years after Lowell George died (in 1979) and then played some of them live about five years after that. He was in a band for a while. Tom has a way of saying things, like most people do, and spends time in whimsy, folksy alt and thrash soft rock. He says he likes the Beatles, Mark Hollis, Donald Fagan and Gustaffer Yellowgold, but mainly local artists and friends who play their own instruments and write their own songs.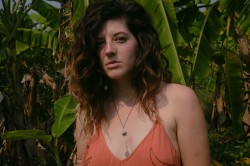 click to enlarge
Giorgia-May is a Neo-Soul musician originally from Brighton, UK that has been pursuing a musical career through the means of travel. She combines sensual lyrics, mesmerising tones and exciting arrangements. Her biggest shows to date include support slots for Omar, Mama's Gun & Alex Vargas, as well as her 2017 performance for Australia's Splendour In The Grass festival and Vietnam's biggest arts festival Dao Xuan in 2019. The latest single 'Woman' can be found on services such as Spotify, iTunes and Apple Music.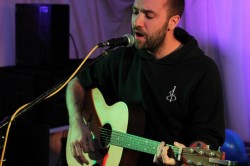 click to enlarge
Joe is the singer-songwriter behind popular local acts "Cyrano" and "The Ackerleys". His style combines rich vocals, poignant lyrics, catchy melody and folk/rock acoustic guitar. At the end of 2012, Joe toured with Level 42 backing Dan Clews. This included playing to full house at the Royal Albert Hall! He has just finished an album with Cyrano which will be released this year. He is also busy working on The Ackerleys first record. His solo set includes some brand new material plus a few stripped down Cyrano songs. Influences include – Elbow, The Beatles, Dawes, Jeff Buckley, Rufus Wainwright, Scott Matthews, Pearl Jam, Crowded House and Radiohead.