The Grey Lady Music Lounge, Sunday 9th December 2012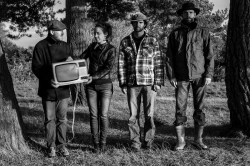 click to enlarge
Son of Kirk is a meeting of hearts and minds. A constantly evolving musical force driven by four uniquely creative individuals, who build on a foundation of inspired song-writing and strong melodic and lyrical interplay.
Interweaving violin, cello and syncopated guitar lines, combine with dance and Afro beat informed percussive drum patterns and elements of improvisation. Four part harmonies create overlapping vocal lines, inspired by tribal and folk traditions. Expect to be taken on multiple rhythmic twists and turns, by songs that circle and hover, unveil and reveal.
The members of Son of Kirk grew up in varying backgrounds around the world, from Australian cults, to the wilds of West Africa, through American suburbia, to the industrial Midlands and the lush, green beauty of The Garden of England, ultimately coming together on the Tunbridge Wells music scene.
The band are currently working on new songs to be released as a series of E.P.s with accompanying films. The first of these 'Utopia Shake' is available to view on Facebook. Songs are available at iTunes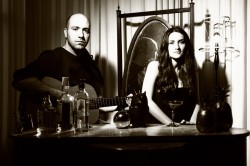 click to enlarge
It is a year now since Cyrano's Joe Ackerley teamed up with his sister Alice to form 'The Ackerleys' as a side line - turned major project! Already they have a fast-growing repertoire of folk/pop tunes, some light and uplifting, some moody and soulful, but all featuring close harmony, strong chord structure and catchy melody. Joe employs his prodigious song writing skills and his own rich baritone to complement and showcase Alice's striking voice. Joe's roots are in rock music as is well known to many of on the TW music scene, his deep seated influences an unusual mix of Pearl Jam/ Radiohead/ Elbow/Crowded House/Jeff Buckley. His sister Alice, just turned 17, provides a more contemporary vibe – Laura Marling, The Staves, Florence and the Machine, Emmy the Great, Marina & the Diamonds. The result is delightfully different - but judge for yourself. The dynamic duo has now added lead guitar and drums in the form of Steve McCormack, and Matt Wilson.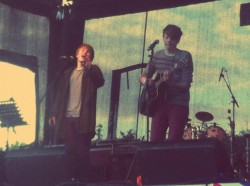 click to enlarge
BigFishLittleFish formed in 2008 and, having swiftly moved in on the Tunbridge Wells music scene when they were awarded first place in a local song writing competition, have been making a name for themselves in the area ever since, playing anything from local weddings to music lounges, and from pubs to open-air gigs in Barcelona. The band comprises of Eden Fish (guitar, piano and vocals) and Ollie Bream McIntosh (lead vocals) and their buoyant enthusiasm and polished confidence combined with infamous banter and light hearted style make for a wholly enjoyable performance. They started writing their own music the moment they joined forces and have honed their collective crafts for over four years, which has resulted in a distinctly striking and attractive acoustic sound. The pair's influences are wide ranging: soul, funk and jazz through folk, blues and indie pop. The duet recorded their first four-track EP in Southampton last summer (which is on sale today), and is looking to spend some more time in the studio in the coming months. Still writing and developing their act, they have high hopes for the future and are always looking for opportunities to perform and gain esteem in the musical world. Along with original material, they perform an endless list of covers, similarly spanning in variety – from old blues classics to current top ten hits, always reworked slightly to add something new and deliver an increasingly recognisable BFLF punch.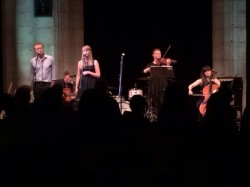 click to enlarge
Singer-songwriter, Paul Dunton leads his own unique cross-over orchestra providing an atmospheric fusion of alternative and pop with a classical twist. Paul & his Orchestra take influences from varying modern day artists such as Pink Floyd, Elbow, ELO, Turin Brakes, Massive Attack, Damien Rice and contemporary composers such as Samuel Barber, Ludovico Einaudi, John Barry and Hans Zimmerman. The Orchestra performs Paul's own compositions and a varied selection of uniquely arranged standards from a wide range of artists. The line-up of 8 violins, 4 cellos, guitar, flute, bass and percussion accompanies Paul on vocals and piano, joined by his lead vocalists, Charlotte Andrew and Poppy Raine. Paul and his Orchestra regularly perform at concerts, festivals and private events throughout the UK and internationally, including headlining the Theatrium Wilhelmstraße Festival in Wiesbaden, Germany and an 8 state tour of the USA which culminated in a spectacular roof-top performance on top of the New York Strand Hotel. Increased attention and success led to the orchestra being featured on BBC Radio 2 by Joan Armatrading with interviews and airplay of one of Paul's songs, 'Don't Forget'. This led to Paul supporting Joan Armatrading on five occasions during her recent UK tours.