The Grey Lady Music Lounge, Wednesday 4th July 2012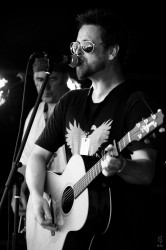 click to enlarge
The Varlies are a homegrown Tunbridge Wells rock band. Formed back in the
early 90s by guitarist, Kev Amos and singer, John Whitehorn, they have
been delighting audiences and listeners alike ever since with their own
blend of music and infectious live performances. The Trinity show is set
to offer a chance to catch the full band in one of their now rare
performances together where they will be performing songs from their last
four albums. With Paul May on drums and Steve Mealing on bass completing
this fantastic line up, this really be one not to be missed. Paul Dunton
Says... "The Varlies are quite simply one of the best bands I have ever
seen live. Their sublime musicianship and infectious melodies underpin
their undoubted ability to create fantastic music. This is band that takes
you on a rollercoaster of emotions! Expect everything from high energy
foot stomping rockin' tunes, funky grooves and hire wire guitar riff's to
beautifully crafted acoustic ballads. John Whitehorne is an exceptional
vocalist, with an incredible range and tone that reminds me of Neil Finn, with shades of Bon Iver's falsetto at times. The band's
live sound is hard to pigeon hole as they have their own swagger and
style, however if you said names such as The Dave Matthew's Band or a
rockier version of Crowded House that would give you an idea!"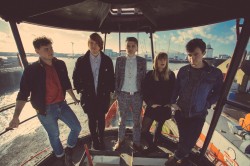 click to enlarge
CORONATION BALL uploaded their first track 'You Had My Heart' to soundcloud in January 2014, the band was immediately picked up by french music blog La Belle Musique and subsequently by blogs including Hunger TV and Clash Music along with BBC 6 Music DJ Tom Robinson. Since January the band have played only a handful of shows headlining The Tunbridge Wells Forum in March and following fellow 'Paul Dunton and Guests' artists 'Annaca' and 'Will Joseph Cook' in appearing for Young & Lost Club Records' at their monthly showcase in London.
"A contagious, uniquely odd pop-phenomenon" - Clash Magazine

"You Had My Heart is fantastic, Wild Beasts gone stadium-pop" - Drowned in Sound founder Sean Adams

"Canny songwriting that lunges straight for the jugular with no messing" - BBC 6 Music DJ Tom Robinson on 'God Be Careful'
"Undeniably Catchy" - Hunger Magazine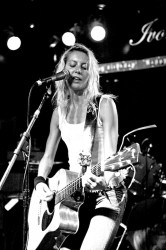 click to enlarge
Based in Tunbridge Wells Monica and the Explosion is a two-piece band consisting of Monica Welander, a Swedish punk rock singer songwriter, and bassist Paul Slack (original member of the UK Subs and the Flying Padovanis). Monica and Paul started touring together in July 2010 after they released her second album "Shut Up!" (joined by drummer Rob Baylis). Since the album release they have been touring constantly around Europe, Ireland, Sweden and Australia as well as gigging extensively around the UK. Having toured around the world as a solo artist for a couple of years, Monica finds the two-piece line-up retains the original concept of the songs whilst adding a new layer of complexity to the over all sound best discribed as "jukebox punk". The latest album "Shut Up!" received a great review in SO Tunbridge Wells September issue last year, and the duo has just completed the recordings of a new album that will be out this year (2012).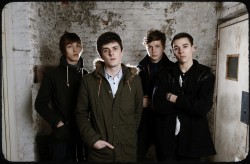 click to enlarge
House On Fire are a four piece Indie/Rock/Punk band from Tunbridge Wells and Brighton that formed in 2010, known for their tight and energetic live shows. The current line-up has been together since March 2012 and has since worked hard to spread their name across the South East of England and increase their following, regularly playing shows across Sussex, Kent and London, including the odd acoustic gig. The band released their debut E.P. 'Truth Or Dare' in May 2012, which was featured on BBC introducing in Kent and earned the boys a place supporting Funeral Suits on their tour. At the end of 2012 House On Fire shot their first music video with The Grad Factor and STAG Music, appearing on the TV series 'The Grad Factor' under their previous name 'The Visitors' and ultimately winning the Twitter vote as the favourite band of the series with their song 'Menace Boys'. House On Fire's second EP will be available on iTunes and Spotify on 22nd April.