Debut show at The Pheasantry, Thursday 28th June 2012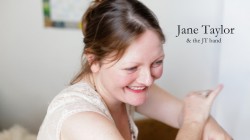 click to enlarge
Bob Harris and Johnnie Walker are real fans, she's won both the UK and International Songwriter of the Year awards, her Christmas single 'Oh December' reached no 24 in the iTunes download charts (after which Radio 2 invited her in for a live session) and there's even a film being made based entirely on her latest album 'Compass' which also just won 'Best Album' at the Independent Music Awards. Come and find out why...
'Classic, timeless songwriting. A quintessentially English Gem' – Time Out
'Beautiful' – Johnnie Walker BBC Radio 2
'A very, very talented artist' – Bob Harris BBC Radio 2
'... Jane Taylor pens songs like a proper old school artist. They're not just tunes, they're classics. And then there's her voice, which steals the show completely. Warming the cockles and putting a smile on your face. Exceptional' – Venue Magazine (Bristol)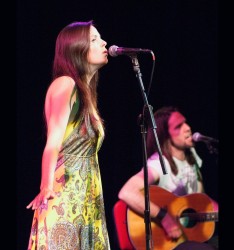 click to enlarge
Formed in 2010, Kent based folk/country artists The Breretons are set to emerge on the London music scene this year with a string of live dates and a debut album scheduled for release in the Autumn. Born from the ashes of London based rock outfit The Original Sinners, the brother/sister duo Marc and Charlotte are returning to their folk roots, playing heartfelt story telling songs of rare poetic quality. Their haunting harmony vocals are accompanied by Alex Metcalfe (piano), Kirsty Mangan (violin), Jim Cox (drums) and Pete Clements (bass).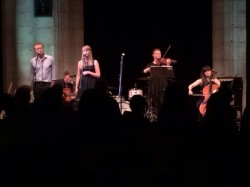 click to enlarge
Singer-songwriter, Paul Dunton leads his own unique cross-over orchestra providing an atmospheric fusion of alternative and pop with a classical twist. Paul & his Orchestra take influences from varying modern day artists such as Pink Floyd, Elbow, ELO, Turin Brakes, Massive Attack, Damien Rice and contemporary composers such as Samuel Barber, Ludovico Einaudi, John Barry and Hans Zimmerman. The Orchestra performs Paul's own compositions and a varied selection of uniquely arranged standards from a wide range of artists. The line-up of 8 violins, 4 cellos, guitar, flute, bass and percussion accompanies Paul on vocals and piano, joined by his lead vocalists, Charlotte Andrew and Poppy Raine. Paul and his Orchestra regularly perform at concerts, festivals and private events throughout the UK and internationally, including headlining the Theatrium Wilhelmstraße Festival in Wiesbaden, Germany and an 8 state tour of the USA which culminated in a spectacular roof-top performance on top of the New York Strand Hotel. Increased attention and success led to the orchestra being featured on BBC Radio 2 by Joan Armatrading with interviews and airplay of one of Paul's songs, 'Don't Forget'. This led to Paul supporting Joan Armatrading on five occasions during her recent UK tours.