The Grey Lady Music Lounge, Friday 17th June 2011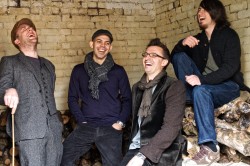 click to enlarge
The Good Ship Band is a rock pop four piece from Tonbridge, Kent, UK. Formed in March 2009, the band have sold over 1000 copies of their debut album, released 6 singles, supported Keane, and have received 11 record deal offers to date; testimony to their relentless gigging throughout the South East and two irresistibly melodic albums. Propelled by the songsmithery of frontman Jez Harley and guitarist/signed songwriter Ed Bingham (NorthStar Music), the band's recent airplay has drawn comparisons with Fleet Floxes, Paolo Nutini and Kings of Leon.
With top bassist James Elliott and session drummer Simon Whiting completing the line-up, the band's live reputation has resulted in the act being sought out by all corners of the industry. Following a flood of offers, TGSB were approached by video-makers Blindeye Films (Sigur Ros, Bryan Ferry, Eliza Doolittle) and the two parties collaborated to produce a stunning promo for live favourite 'Hometown'. With such momentum, the band released 'Boomerang Girl' followed shortly by the eagerly anticipated second album, 'The Good Ship Band - Part 2'. Part 3 is already on the way, with more live shows booked and recording dates in the pipeline.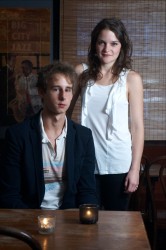 click to enlarge
Sarah Sheldrake & Oli Scheuregger are one of the leading acts at the show, with divine vocals and outstanding piano.
Having learned to play the piano at the age of 5, Oli has been teaching himself for the last 5 years. Though classically trained, he draws inspiration from jazz, ambient and electronica artists such as Little Feat, Herbie Hancock, Chick Corea, Athlete, E.S.T, Richard J. Lewis, Aphex Twin, Trio Elf, M83, MoodBungalo and Yoav. Oli has just finished secondary school and hopes to study sound recording at the University of Surrey.
Fusing his creativity and musicianship with talented singer/songwriter Sarah Sheldrake, the duo actively write and perform together offering a distinct live sound which encompass soul, pop, folk, jazz, electronic and blues influences. Sarah is studying music in her first year at Southampton University and comes back to Kent to collaborate with Oli between their studies. Some of Sarah's influences include Jeff Buckley, Bon Iver, The Cinematic Orchestra, Catherine Feeny, Madeline Peyroux, John Martyn and Sufjan Stevens. Paul recently awarded the duo free studio time at Audio Sorcery Studio's in Wadhurst providing the opportunity for Oli & Sarah to record their debut CD with local producer Paul Midcalfe in August of this year.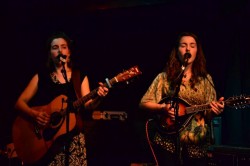 click to enlarge
Lights on the Mountain are a Kent based band who write and perform contemporary folk music. They are a new musical project started up by the band formerly known as Threeforagirl. Lights on the Mountain perform music influenced by traditional British and American folk styles, bluegrass and Americana as well as more contemporary folk, indie and blues bands. As musicians they have together toured the London circuit, the United States and more recently have become prominent on the Scottish music scene, playing at the very first Sofar Sounds Edinburgh. They love playing at the Grey Lady, their favourite home venue.
Lights on the Mountain released their first single 'The Wars' on the 4th January 2014 at a sell-out launch the Borderline in London alongside West London folk collective Stokes, William. The launch was presented by the London based artistic community Bezalel. 'The Wars' is now available for download on iTunes.
To listen to threeforagirl's last EP, recorded in the summer of 2012, visit http://threeforagirl.bandcamp.com
Visit their website for pictures, music and live dates.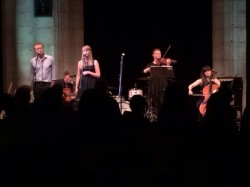 click to enlarge
Singer-songwriter, Paul Dunton leads his own unique cross-over orchestra providing an atmospheric fusion of alternative and pop with a classical twist. Paul & his Orchestra take influences from varying modern day artists such as Pink Floyd, Elbow, ELO, Turin Brakes, Massive Attack, Damien Rice and contemporary composers such as Samuel Barber, Ludovico Einaudi, John Barry and Hans Zimmerman. The Orchestra performs Paul's own compositions and a varied selection of uniquely arranged standards from a wide range of artists. The line-up of 8 violins, 4 cellos, guitar, flute, bass and percussion accompanies Paul on vocals and piano, joined by his lead vocalists, Charlotte Andrew and Poppy Raine. Paul and his Orchestra regularly perform at concerts, festivals and private events throughout the UK and internationally, including headlining the Theatrium Wilhelmstraße Festival in Wiesbaden, Germany and an 8 state tour of the USA which culminated in a spectacular roof-top performance on top of the New York Strand Hotel. Increased attention and success led to the orchestra being featured on BBC Radio 2 by Joan Armatrading with interviews and airplay of one of Paul's songs, 'Don't Forget'. This led to Paul supporting Joan Armatrading on five occasions during her recent UK tours.