Zoe Konez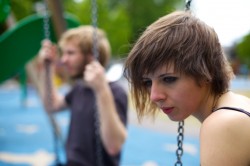 click to enlarge
From the North West to the South Coast, settling in London via Australia, Zoe Konez is a force of well-travelled, indefinable acoustica.
As an inimitable guitarist exploring experimental open tunings and innovative playing techniques, Zoe brings us her unique twist of indie-folk. Through sharp lyrical acumen Zoe shares a tender balance of insightful personal introspection and keen observations on life. Her instinctive connection between word sounds and melodic pattern is woven through cross genre, open songwriting styles and delivered through confident command of her instruments – voice and guitar.
Long term friend and drummer Will Connor joins Zoe in a dynamic two-piece line up. Through this unconventional coupling they exhibit an intriguing and surprisingly complete sound, exposing a spacious chemistry between acoustic guitar and drums.
Zoe is passionate about musical collaboration and fostering creativity. She leads inspiring community music projects and showcases up-and-coming artists at her successful acoustic night Stop Look Listen. If you're lucky you can even catch her all fired up and fronting riot grrl rock band Cat Bear Tree.
Zoe's album 'Fold The World In Two' is to be released in January 2014 on the Big Chill label.
Understated acoustic guitar brilliance & forensic songwriting precision... I've seen Zoe hold an entire room of people enthralled
Tom Robinson, BBC 6Music
http://www.youtube.com/zoekonez
Zoe Konez on Twitter (@zoekonez)
Last played:
Boxing Day Special, Thursday 26th December 2013
The Paul Dunton Ensemble, Zoe Konez, Charley Blue, The Breretons, The Creatures of Habit