CoAlition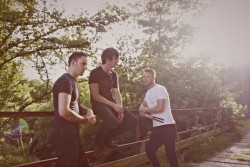 click to enlarge
Formed in the winter of 2011, members of the same family got together to play in a covers band but soon realised they wanted to venture into the world of making their own, original music.
Since that point they have recorded a number of demos and played extensively across the South East and London, gaining a good following in the process, filling some popular London venues such as the Fiddlers Elbow and the Islington O2 Academy.
Their songwriting comes from the mind and thoughts of their talented frontman known as Sparx, who uses life experiences as inspiration. Their view is to make uplifting music that reaches the audience's emotions. Inspirations range from the likes of Oasis, Jimi Hendrix and the Arctic Monkeys to Incubus and Thursday.
Each member brings their own touch to the band to create a sound they can truly call their own. From intricate melodies to head nodding rock, they look to captivate audiences during their journey through the world of music.
Last played:
The Grey Lady Music Lounge, Tuesday 30th September 2014
Benjamin Parkhurst, Francesca Tidd, CoAlition, Storm Engine