Vispers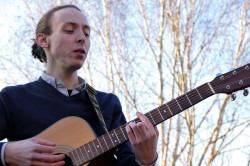 click to enlarge
Vispers is a cutting-edge alternative/indie-rock troubadour outfit based in Tunbridge Wells, Kent. It is masterminded by Matt Bassett, which is another way of saying that Vispers is a thinly veiled distraction from the fact that Matt Bassett is a white boy with a guitar, doling out bare feelings in three-to-four minute chunks.
When, as a fifteen year old girl growing up in downtown São Paulo, he realised he could pass off songs that seem to be about one thing (e.g. ghosts, criminals, space) but are ACTUALLY about another (i.e. fancying people) as 'metaphors', he knew pseudo-punk poet-pop was his calling. Eight years later Matt has decided he should therefore actually play live.
Oasis and The Libertines sparked and sealed Matt's love for music. Predictably other influences include Arctic Monkeys, The Smiths and Pulp. Also Florence + the Machine and Vampire Weekend (Matt can be arty), Guns 'N' Roses (Matt can be heavy) and Lana Del Rey (Matt can surprise you with his breadth of musical taste).
http://vispersmusic.wordpress.com/
Vispers on Twitter (@vispersmusic)
Last played:
The Grey Lady Music Lounge, Tuesday 13th February 2018
Artist (TBC), Vispers, Leon Benson, Matt Falloon