Tutuki (formerly Je m'appelle)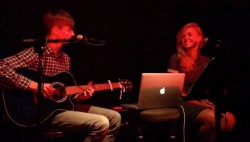 click to enlarge
Tutuki (formerly je m'appelle) formed in the summer of 2013. Jasmine, the vocalist and bassist has been singing and recording since the age of 11 in various bands and venues across Kent, the most recent being Firefly. Jim, the electronic producer/guitarist and singer has been part of numerous groups since he was 12, but more recently has been focusing on his electronic solo project Model Melt, through which he has been signed to a few labels, most notably Play Me and Adapted Records. After Jasmine recorded vocals for some of Model Melt's tracks, the pair realized that something more could be made of the collaboration and they began to compose new songs together, working on live performances of the tracks combining interesting electronic elements with the simplicity of two voices and a guitar.Tutuki would describe their music as laidback acoustic pop with unique electronic elements. They have also had a lot of fun playing cover songs which they have tried to make as different from the originals as possible!
Last played:
The Grey Lady Music Lounge, Tuesday 27th May 2014
Holly Stanford, Megan Jordan, Tutuki (formerly Je m'appelle), A mystery guest!