Towma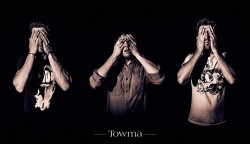 click to enlarge
Towma are a triumvirate of intelligent piano-driven pop.
Sitting aside from many of the prescribed musical labels and boxes, they deliver appealing songs with stories and meaning; a driving, melodic alchemy of great vocal harmonies and intricate musical detail.
Among their influences, they count Ben Folds, Rufus Wainwright and Everything Everything. They have been compared to Esbjörn Svensson Trio, Steely Dan, Supertramp and Nizlopi.
"Brilliant and unfazed about sounding like anybody but themselves." Ben Robinson, UK Festival Guides
"Pop with jazz inflections with lovely harmonic choral singing. You are just fantastic." Linda Serck, BBC Introducing
Last played:
Pizza Express Christmas Special, Thursday 15th December 2016
The Paul Dunton Orchestra, Phoebe Katis, Towma