Top Cat Collective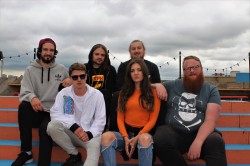 click to enlarge
Top Cat Collective are a six-piece funk and hip-hop group hailing from the South East/London. Combining the insatiable grooves of George Clinton and Parliament Funkadelic, with the forward thinking aesthetic of J Dilla, and Madlib, their unique concoction of hip-hop and funk is unparalleled.
Their full live setup is hard to beat, with the powerful vocal talents of Chris Hutchings – of Black Gabanza – and Harriet Langley more than matched by their relentless rhythm section, and they've received innumerable plaudits for their live show.
Their self-titled debut EP was released last year, and they toured in support of it, selling out the Sussex Arms and the Tunbridge Wells Forum, in addition to headlining gigs at the Paper Dress in Hackney, New Cross Inn and The Good Ship. This summer they performed at El Dorado Festival and took to the main stage at LeeFest for a show that was featured on the BBC.
Their second release Ways To Move came out on September 30 and is available now through iTunes, Spotify, Amazon Music and Bandcamp. An expansive and bold record, It was engineered by Phil Scragg (Robert Plant, Corinne Bailey Rae) has artwork from Raimund Wong (Total Refreshment Centre).
The lead single 'Ways to Move' has a video out now on YouTube, with a remix of 'PNGZ' with London hip-hop MC Lemzi scheduled for December. They packed out Rye Wax for their EP launch on September 30 and are looking towards a Spring tour across the UK in support of the record.
Top Cat Collective are also through to the final of Yamaha's Funk It Up Thursdays competition with a chance to perform at next year's Love Supreme festival.

'Take 30 minutes of TC collective twice daily to turn yourself in to a funk guzzling groove beeg. Love it.' – Pete Bennie, Speaker's Corner Quartet.
'This (Rascal Bud) is practically falling off the back of the beat and poking the previous in the nose!' – Guy Harris, Drummer.
(Photo: Ruby Bukhari)
Last played:
The Grey Lady Music Lounge, Sunday 21st July 2019
Top Cat Collective, David Migden & The Twisted Roots