Tony Moore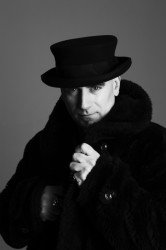 click to enlarge
Tony's long and eclectic career in the music business includes leaving school to become an original member of Iron Maiden at the end of the 70's, scoring a Christmas hit in Holland with his song "Fool" in the early 80's and becoming the keyboard player in Cutting Crew ( I Just Died In Your Arms Tonight) during the mid 80's.
In the late 90's he founded and ran the seminal London songwriters venue, the Kashmir Klub, where he played a role in the early careers of artists like Damien Rice, KT Tunstall, Imogen Heep and since 2003 Tony has repeated the same concept and format at The Bedford where he's been at the beginning of artistic journeys for acts like Paolo Nutini, Ed Sheeran, Newton Faulkner, Jamie Lawson and many more.
At the start of April 2013, Soho Radio launched in London and Tony was invited to present a regular weekly show which features live music, interviews and special guests. With over 150 shows under his belt and more than 300 guests to date, the show is one of the longest running on the station which, at the end of 2016, was awarded Best Online Radio Station In The World in the Mixcloud awards.
Through the summer of 2015 he worked in Berlin acting in a brand new movie called Mr Rudolphos Jubilee, playing the part of 'Colin' an enigmatic, complex but humorous Hit Man with a sweet tooth ! It had it's world premiere in Berlin on January 28th to a sold audience and is currently being seen across Europe.
For the last few years he has also been co-writing, producing and touring with emerging artist ILONA.
Tony is now currently recording material for a new solo album having released the lead single, a powerful ballad called Perfect And Beautiful that made it's debut in the iTune singer/songwriter charts at 19.
For the rest of 2017 he is lining up live shows in the UK and USA as well as preparing to release more tracks ahead of the album.
http://www.tonymooremusic.com/
Tony Moore on Twitter (@tonymoore1)
Last played:
The Grey Lady Music Lounge, Sunday 25th June 2017
Ryan Weeks, Ant & Fie, Tony Moore, Elias Kopp