Tom Cullen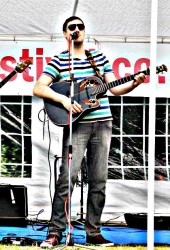 click to enlarge
Tom Cullen is a singer songwriter and multi instrumentalist from South London. From a family of musicians he literally has music running through his veins.
Tom started writing raps at primary school with his friends in the playground and since then hasn't stopped creating music.
Tom studied at the BRIT School, where he honed his musical skills, playing in bands and gigging around the UK. He discovered he had a knack for song-writing. Armed with an Atari ST and a Fostex 8 track, he started to write and record his own tracks.
In the early years of two-step garage Tom co-wrote songs included on dance compilations and sang in an alternative gospel choir in Brixton. During this time he learnt his trade producing in the studio and performing live, developing his own unique style drawing influences from Soul, Folk and Hip Hop.
His second album 'Tales of a Troubled Town' released in 2011 was well received and had two songs picked up by BBC Introducing and featured on the Tom Robinson show.
Tom is now writing acoustic music with heartfelt, catchy, soulful lyrics. His new EP is currently in production and he is looking forward to sharing his new songs live.
Last played:
The Grey Lady Music Lounge, Wednesday 19th February 2014
Paul Wheeler, Tom Cullen, Kirsti Robinson, Storm Engine