The Orange Circus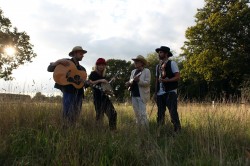 click to enlarge
THE ORANGE CIRCUS BAND are a raucous, 'footstompin', Americana/Celtic act from the U.K and Virginia in America. A unique co-operative, they're a band made of family and friends from Virginia, Wales, Cornwall and England.
Concentrating on original songs and updating traditional music taken from the Blue Ridge Mountains in Virginia blended with Celtic roots, they continue a historical musical lineage in a contemporary, fresh and exciting way. Bring your dancing shoes, they put on a brilliantly entertaining show - great playing, beautiful harmonies and boundless energy are guaranteed to raise the roof, warm the heart and encourage the biggest of grins.
"If Jonathan Richman and The Velvet Underground formed a bluegrass band they'd be The Orange Circus" Rory Carlile, The Harrison, London.
They have just released their first official Album 'We Make our Smiles' recorded largely at Tilehouse Studios by Luke Oldfield (son of Mike Oldfield, Tubular Bells) and have started to get radio play on BBC Kent, BBC Wales and BBC Cornwall.
The Band have recently returned from a tour of Wales and Cornwall where they did a live session on BBC Introducing.
Things are really heating up for the band as they are becoming one of the most exciting Country bands in the UK.
Line Up:
Flash Hearth (Vocals/Guitar/Harmonica)
Shep! (Mandolin/Banjo/Box/Vocals)
Raven (Fiddle/Vocals)
Jessie Moonlight (Vocals/Banjo)
Sergeant Kahn (Bass)
​The Rev. Zeb (Elec Guitar)​
http://www.theorangecircus.com/
Last played:
The Grey Lady Music Lounge, Tuesday 28th June 2016
Amber Anderton, The Paul Dunton Orchestra, Drifting Embers, The Orange Circus