The Freudian Slippz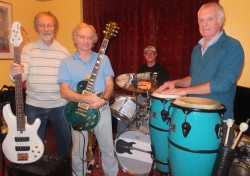 click to enlarge
We are a four piece band playing original music. We play melodic rock music with influences blending from rock, Latino, classical, folk, blues and jazz sources. The emphasis is on strong melody lines and chorus with a dancing, toe-tapping rhythm. Originally formed in 2008 this current line up has been together since summer 2013. We are:

Bill Beatroot: Bass guitar and backing vocals
Gordon Fraser: Drums and backing vocals
David Mann: Guitar and vocals
Roy Nelham: Congas and percussion
David Mann, "the singing psychotherapist!" plays guitar and lead vocals and is actually a Freudian psychotherapist in his day-job! At school he played the clarinet but found his true form of musical self expression when he took up the guitar. His guitar influences are the usual suspects: Richard Thompson, Jimi Hendrix, Eric Clapton, Robert Fripp, Jimmy Page --- but he honestly can't play half as well as any of them! His song writing reflects influences from his wide taste in music: though essentially rock, there are shades, notes, colours, tones and rhythms from Latino, classical, jazz, blues, folk and world music. He has always had trouble writing his own lyrics. In his teens he put poems by William Blake, Lewis Carroll and others to music. These days he co-writes with his wife, Michelle, who puts the words to the voice of The Freudian Slippz.
Michelle MacGrath, lyric writer, is a published poet. She has been translating Russian poetry and writing her own since her early twenties, initially to record key events, ideas, observations and moods. She has been writing songs with David since 2009 and in that time they have written a large number of songs – 'and now we know how many songs it takes to fill the Albert Hall'.

Bill Beatroot started playing guitar in the eponymous band, "Billy and the Beatroots", whilst still at school. At university he played bass in a band named "Blue Smoke" which supported acts such as "The Ronettes". Bill still enjoys occasional musical reunions with colleagues from these earlier bands. Recently Bill has joined the Freudian Slippz, contributing to David's and Gordon's melodic sound as of summer 2013. Bill's bass influences include Jack Bruce and Mark Tobik. You will probably have heard of the former but not the latter who plays with the incomparable Kate Voegele.

Gordon Fraser, drums and backing vocals, started playing the drums at school in the 70's, he was in a couple of school bands and has been playing on and off with friends ever since. After a period of not playing but feeling that something was missing in his life he dusted off his kit and joined The Freudian Slippz in January 2010 and has been enjoying making music with the band ever since!

Roy Nelham, I have always been interested in music from the rhythm/drumming perspective rarely hearing or remembering the words of songs. In 1990 I attended a drum and percussion workshop in Brighton held by Vincent Salzfaaz and was hooked. I was given my first drum, a Gumbe African drum, as a Birthday present from my wife later that year with the message "stop talking about it so much and go and do it!". I immediately started attending Vincent's weekly group drum classes in Hastings it wasn't long before we were on Hastings sea front giving a "concert". Alison Surridge, now "House of Rhythm", was in the group and set up her own drum circle in Waldron and I transferred there. The group grew and I acquired a Djembe drum and with some core members gave one or two performances. In the late 1990's, 7 of us, including Alison, formed Tricky Beats, a successful Sussex African drum and percussion band. I preferred base rhythms so I acquired a Bougarabou (African base drum), Conga drums, Bongo Drums, etc and joined the two others in the base line up. Tricky Beats gave many performances at weddings, Birthdays, concerts, Brighton African Night Fever, Heathfield Show and Le Marche and many others, often with repeat performances. We recorded and produced two CD's. In 2012 our lead drummer arranger and drum teacher decided to return to more instrumental music as well as his drum classes so Tricky Beats wound up at the end of the year. In 2013 I invited myself along to a Freudian Slipz rehearsal to see if they would accept me as percussionist in addition to their successful line-up. Fortunately, they agreed.
http://www.freudianslippz.co.uk/
Last played:
The Grey Lady Music Lounge, Thursday 17th July 2014
Liam Hannigan, TYN, The Freudian Slippz, The Logan Wilson Band