Teri Bradley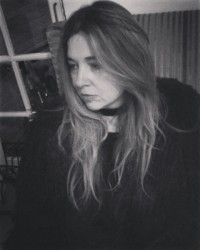 click to enlarge
Teri Bradley -- a singer /songwriter,from London, born Clapham South London.
I signed to Elton John's 'Rocket Records' at 15 years and signed to Mccasso Productions as a professional session singer, singing on commercial campaigns such as Evian, Elmlea, Birds Dream Topping, Barbie, Milky Way and Selfridges' major campaign 'There's no place like it' for TV and radio.
I then left Rocket Records to collaborate with different songwriters. I met Kevin Byrd of the band Haysi Fantaysee, who was signed to Virgin Publishing, and we started a duo called Cupid Mount Etna; we recorded demos and performed gigs around London.
We then formed a rock band called Cherry and performed a showcase for Dave Ambrose, at Nomis studios, who signed Duran Duran, Pet Shop Boys, The Sex Pistols, Talk Talk... Although Cherry didn't go the distance I ended up co-writing with Dave on his material which inspired me to start writing my own material.
Colin Thurston, producer of Duran Duran and engineer for David Bowie's'Heroes' album, paid for studio time with session musicians to record a series of demos. My first gig I did with Dave, I met my future husband Mark Bradley, lead singer of Undergound Circus, who had just signed to Planet 3, Sanctuary Music (now Universal Music).
I then sang on Mark's album, we had our first daughter Darcey, now married with four daughters, and throughout, never stopped writing music, and co-writing with my husband and on my own.
I have written an album -- The Journey -- and I am in the process of recording it.
I am very happy to be making my debut at The Grey Lady on the 23rd of February 2016, and will be singing songs from my forthcoming album which I hope you enjoy. T x
Last played:
The Grey Lady Music Lounge, Sunday 24th April 2016
Teri Bradley, Milly McCarron, Joanne Louise Parker, Cracks In The Land