Steve Dodds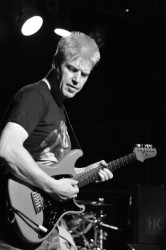 click to enlarge
Starting out at age 9 Steve's early attraction to guitar was not based on the usual influence of guitar players but as a result of being told he must not touch his sister's guitar! Another fact that would shape his future musical journey was that his first instinct was to turn the guitar upside down and use it as a drum!
After cutting his musical teeth working in bands in London and South East England he became a professional "gun for hire" and worked internationally for many artists, producers and record companies.
Steve's latest project is a solo guitar adventure that he calls "guitabla" style which incorporates a mixture of Rock, Funk, Blues, Folk, Jazz and World styles and utilises a cocktail of percussive drum beats, bass lines and interweaving chord and melodic sequences. He likes to approach some of his compositions as if a whole band were playing via one instrument. Some of his influences include Led Zeppelin, Peter Gabriel, Pink Floyd, Michael Hedges and Jeff Beck.
He is currently focused on developing and recording tunes for his first solo CD and playing his set live. You can keep up to date with developments and future gigs on his website.
Last played:
The Grey Lady Music Lounge, Sunday 21st September 2014
Anna Hogg, Steve Dodds, Luke Jackson, Giorgia-May