Spyplane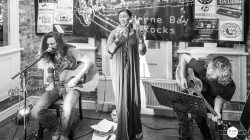 click to enlarge
Spyplane Acoustic write and perform their own songs, combining intricate and delicate guitar work with haunting melodies and lyrics. Utilising loop and delay pedals, they bring a beautiful full sound that encompasses a fluid mix of folk, jazz and blues. Their influences include bands such as Radiohead, Amplifier and 10,000 Maniacs.
They are:
Joe Inkpen, a PhD music student and accomplished guitarist with a long string of credits to his name including compositions for artists such as Zwerm and Maggini. He is also the creative force behind The Mop Collective. His influences include The Cardiacs and Oceansize.
Martin Emmons: brings a wonderfully quirky feel to the trio with clever jazzy sounds that fit seamlessly and complement the songs so well. He is also well known as lead guitar and main song writer with the band, Witchdoctor.
Sherrie Tappenden: writes the deeply personal lyrics and melodies which add a unique vocal line to complete their sound with a voice that has been likened to both Sandy Denny and Beth Gibbons.
Last played:
The Grey Lady Music Lounge, Sunday 26th November 2017
Spyplane, James Medhurst, Dan Sumner, Dave "Shep!" Sheperd