Simon Scardanelli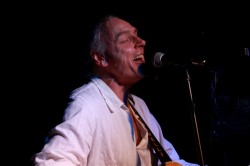 click to enlarge
Simon Scardanelli releases an EP, Three Dances With Sam, in July 2014, and a full album Florence Road, will follow late September 2014.
Singer and guitarist Simon Scardanelli enjoyed chart success in the late eighties with Anglo-Canadian duo Big Bam Boo, scoring a top 40 hit in the USA & Canada in March 1989 with Shooting From My Heart, prompting the duo to relocate to New York from London. Following the demise of Big Bam Boo in 1991 Scardanelli remained in New York, turned his back on the popular music scene and scraped a living in the underbelly of New York's Lower East Side - including a stint working as a liquor runner at the infamous Save The Robots after-hours club. His darkly challenging solo album Death Row Tales (1994) bears testament to the dark & dangerous lifestyle he was living on 4th St & Ave D.
Death Row Tales has since become a cult album after it was discovered that the CGI programmers of The Matrix films were caning it during long rendering sessions.
Returning to the UK in 1995 Scardanelli stopped performing to become a mature student, completing a BA in 20th Century Music at Sussex University in 1998, and a PhD in Composition (awarded 2010) at Birmingham University.
A mini-album, Bed of Nails, came in 2002 and the album Hobohemia followed in 2005, coinciding with his return to live performances after an eleven year absence. That Dangerous Sparkle was released in 2007 and firmly established Simon's reputation as an innovative and inventive songwriter.
In 2011 Scardanelli formed DR SCARDO, a 4 piece alt rock band. The debut album Dark Dog Days was released on Resonator Records in June 2013. Further releases are planned for 2015 – the band being a "side project" for Scardanelli's other writing styles.
A charismatic and engaging solo performer, Simon's shows are peppered with wry anecdotes and dry, self-deprecating humour – he is able to look back on a long and varied career with an ironic appreciation of its highs and lows. But it is the quality of songwriting and singing that will ring in your ears after a Scardanelli gig – as Sound on Sound wrote – "Simon's greatest asset is a fantastic singing voice...his performance on tracks such as They Dance bear comparison to the likes of Scott Walker."
Simon Scardanelli's solo albums, the DR SCARDO album, and two Big Bam Boo albums, are all available on iTunes, as well as from his website. Check out live solo performances on youtube.
"You never know what is lurking around That Dangerous Sparkle's dark corner, but whatever it is will always shock and surprise. Scardanelli is always prepared to take a risk, and we should all hope that it is this experimentation that is the future of British singer/songwriters." -- Evan Parker - Base.Ad
"A spine-tingling listen" -- Maverick Magazine
"Inspiring, entertaining, creative, attention grabbing, unforgettable, a true professional musician, songwriter, performer, vocalist and all round good egg.
Played our small venue as intimately as it is possible to do, but equally as rewarding in a theatre or arena arena. Digitally he is amazing, live he is mind blowing." -- Rob Henry, Real Music Club, Willingdon, Derbyshire.
http://www.youtube.com/simonscardanelli
Last played:
The Grey Lady Music Lounge, Sunday 16th November 2014
Elle Roberts, Simon Scardanelli, Beckie Stoneham, Dan Clews