Searching For Pie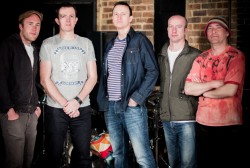 click to enlarge
Timing is everything and Searching For Pie is fast on the path to success. Undoubtedly, comparisons will be made spanning an array of genres from the Beatles to The Doors, but what Searching for Pie have created is a flawless conglomeration of sound that until now has yet to be heard. The debut album 'Into The World' was written and produced by the Frost brothers, Neil and Gary. Hashing with Carl, Ed, and Jez in 2012 they starting their live performances, playing numerous festivals and venues throughout London and the South East. Their edgy, rock-driven live sound has brought them a rapidly growing fan base and much critical acclaim.
2013 witnessed Searching for Pie performing as main support for nineties Britpop trio 'Dodgy' as part of their 3x1 Tour 2013. They are currently writing new tracks for their follow-up album due for release in the autumn.
Don't miss this band!
Last played:
The Grey Lady Music Lounge, Sunday 9th November 2014
Peter Mercer, Andy Twyman, Funke & The Two Tone Baby, Searching For Pie