Scarlett Surgeoner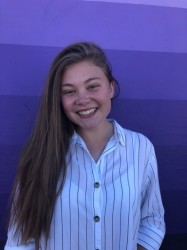 click to enlarge
I'm Scarlett and I'm a 15 year old singer-songwriter from Sevenoaks, Kent. I've been writing for the last three years and I've discovered my love for country music in the last year.
Recently, I've been busking In Chinatown in London and my song choice ranges from Jolene to Don't Look Back In Anger. I've also been a part of open mic nights and singing in a choir in Rochester Cathedral.
My main influences are Dolly Parton, Brandi Carlile, Lady GaGa and Niall Horan.
Last played:
The Grey Lady Music Lounge, Sunday 8th March 2020
Scarlett Surgeoner, Giorgia-May, Lucy Jarrett