Ross & The Wrongens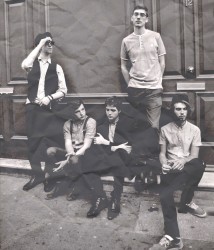 click to enlarge
THE BAND

Ross Wrongen - Lead Vocals/Acoustic Guitar
Sam D Wrongen - Drums/Backing Vocals
Nils O'Wrongen - Bass/Double Bass/Banjolin
Sam G Wrongen - Guitar/Banjo/Backing Vocals
Timmy Wrongen - Hammond/Accordian

They've played...

* Camden Crawl 2010
* Ronnie Scotts, London
* The Cavern Club, Liverpool
* 02 Academy, Islington
* Barfly, Camden
* The Dublin Castle, Camden
* The Fly, London
* Bar Music Hall, London
* The Windmill, Brixton
* Tommy Flynns, London
* Camden Rock, London
* Absolute radio to 1.2 million listeners!!
"That Magic Feeling" and "Summer Sun" have already been nominated for best pop song at the Exposure Music Awards, an organization dedicated to promoting the best new bands in the UK. Pepsi Max used the videos the band made for Live in the Loos (Ep) as a sample of what they were looking for in their Max It Legends competition in 2010. They also used pictures of the band playing live in their online adverts for the competition.
British Clothing firm Jack Wills have used two of the bands track in online adverts.

Great indie pop/rock band, you'll see them in a number of forms. Whether it's their electrifying full band show or their stripped acoustic setup with banjo, accordian and double bass... you're in for a load of fun with this band!

If you like what you see/hear, feel free to get in touch with the band via Facebook or by email at info@rossandthewrongens.com
http://www.rossandthewrongens.com/
Ross & The Wrongens on Facebook
Last played:
The Grey Lady Music Lounge, Tuesday 8th October 2013
Annie Lees, Will Sid Smith, The Harveys (full band), Ross & The Wrongens