Robert Bearsby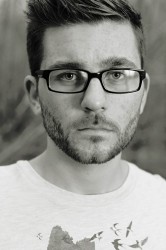 click to enlarge
"Picked by our head of music, there is no higher endorsement than that!" - Sarah Champion, Absolute Radio
In August 2012, Robert Bearsby found himself twelve thousand miles away from home in Australia without a penny to his name. "I walked into a hostel, gave the guy at reception my last few dollars for a bed and asked if I could leave my bags in their luggage storage, so at the end of the week so I could sleep on the street. I wasn't scared about sleeping rough, but I did need to eat. So I picked up my guitar, sat down at the side of the road and I sang to anyone who would listen to me. Three months later I had made enough money to get back home to England and I felt like if I could do that. I could do anything.".
"One of the strongest solo artists on the scene for a very long time!" - Wynona Grant, Fortitude Magazine
Robert's first single Late Nights & Traffic Lights debuted at No.45 on the UK singer/songwriter chart and at No.15 in the New Zealand singer/songwriter chart. His follow up single I'll Adore You, For Tonight was picked up by the head of music at Absolute Radio for national airplay as an emerging icon. Robert's third release This Ain't The Easy Life launched his debut EP These are the good old days and was selected by VEVO to be pushed in the USA.
"A great performer with a voice you want to keep listening to, I can't wait to watch and hear his career." - Dominic King, BBC Radio Kent
In his first year Robert has been featured on almost every regional BBC Radio Station in the UK, received airplay on Covent Garden Radio, Vixen 101, ABC Radio, Riviera FM, Radio Tircoed, Jemm 2 Radio, Sommer Valley FM, Castle FM, Phonic Fm and Pulse98 as well as a number of printed publications and online blogs including Fortitude Magazine, Limelight Magazine, TNT, OnTheComeUpTV and Music Mafia Magazine.
"Great sound... Great Vocal." - Ben Woodcock, Muzu.tv
These are the good old days is OUT NOW on all major online distributors!
Robert Bearsby on Twitter (@robbearsbymusic)
Last played:
The Grey Lady Music Lounge, Tuesday 31st January 2017
Frankie Swain, Kelly Bourne, Robert Bearsby, The Crew