Richard Navarro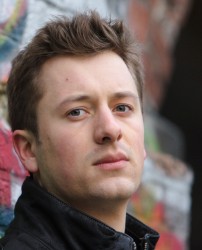 click to enlarge
Described in one review as 'the Jeff Buckley of jazz', Richard Navarro (formerly known as Richard J Lewis) is a singer, songwriter and multi-instrumentalist from Canterbury fusing powerful lyrics and soulful melodies with a strong jazz sensibility and swing.
The breathtaking energy and atmosphere of Richard's live shows have won the songwriter a growing following and coverage on regional television and local, national and digital radio. As well as playing festivals, theatres, clubs and pubs across his home county of Kent, Richard's performances have included Bush Hall, Water Rats, the Troubadour, Pizza Express and Folkestone's newest concert venue Quarterhouse.
Richard Navarro is a singer and songwriter fusing sharp-witted lyrics with a strong jazz sensibility and swing.
His new EP, produced by Laurel Collective's Charlie Andrew, features his exceptional live band that includes Rees and Glenn Bridges on drums and double bass. He is appearing solo at this year's Local & Live Music Festival in Tunbridge Wells.
Live strings and brass underscore the songs, and Charlie Andrew's producing talents (which are winning him a growing roster of bands including Man Like Me) come to the fore in the sumptuous strings of Navarro's love struck ballad 'Sober' and the punchy brass on his lovesick 'Strange Ways'.
'Classy' – Robert Plant
'An outstanding performer, with a unique sound that moves from the epic soundtrack to the intimate with ease' – Bern Leckie, Controller Chill Radio/ Core Radio
'Deeply talented' – Fiona Green, The Troubadour, London
Last played:
The Grey Lady Music Lounge, Sunday 17th February 2013
Jessica Johansson + band, Will Sid Smith, Will Joseph Cook, Richard Navarro