Richard Navarro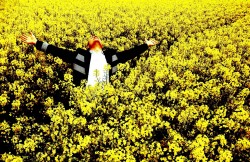 click to enlarge
Richard Navarro's live shows are renowned for spectacular feats of vocal and instrumental virtuosity and improvisation. Previous collaborations include the 'Let Go Light' UK tour with live visuals controlled by wireless shoes, the 'Firewatching' UK and Ireland tour with choirs and brass bands, and with The Luminants featuring extraordinary magic lantern displays.
Navarro composed and produced the music for Lemn Sissay's critically-acclaimed 'Warrior Poets' and is curator of the poetry stage at the prestigious In the Woods Festival.
Along with fellow multi-instrumentalist Nicholas Thurston, Navarro has performed at many UK festivals including Latitude and Greenbelt, and toured as support for Joan Armatrading. Many of these performances and projects have included young and marginalised people in composing and performing new music.
"Finely-crafted songwriting" -- Joan Armatrading
"Richard is a genius" -- Lemn Sissay
"You were fantastic!" -- Imelda May
"Staggeringly talented" -- Charlie Andrew (BRIT Awards Producer of the Year 2016)
http://www.richardnavarro.co.uk/
Richard Navarro on Twitter (@navarrorichard)
Last played:
The Grey Lady Music Lounge, Wednesday 20th December 2017
Iona, George Butler, Emanuel Fanthome-Hodgson, Richard Navarro