Redvers and Mélissa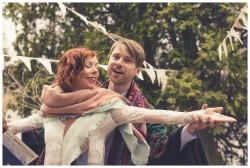 click to enlarge
Singer Songwriter Redvers Bailey, originally from Gloucester England, met Quebecoise singer Melissa Brouillette at an open mic in Berlin soon after moving there to live, and follow the dream of somehow being able to live as an artist someday.
In Berlin, Redvers discovered a thriving street music scene where many wonderful sounding musicians play well attended concerts in the streets with high quality sound systems. Where fans nurture their favourite artists by buying CDs and inviting them perform highly personal concerts in their living rooms for their friends.
Armed with a battery powered amp, new songs and a small suitcase filled with CDs, Redvers took this idea on the road, travelling Europe far and wide, performing every step of the way and saving up for some wheels.
Redvers and Melissa were just friends to begin with, however, after several transatlantic Facebook chats and taking the road together from London to Berlin in Redvers VW camper, they fell in love.
They travelled Europe, singing together in the streets, parks, bars and living rooms all over Germany, France, Italy, UK, Poland and Czech Republic before basing themselves in Montréal where they started a family.
Redvers had previously studied music at Kingston University of London before going on to host a well known weekly acoustic showcase in London. This is where he caught the singer songwriter bug.
Francophone Melissa had previously performed with many different projects as lead singer, background singer and chorister, singing early music, classical, jazz, pop folk and a cappella as part of her daily life since the beginning of her education.
Together Redvers and Melissa sing a mixture of their own joyously melodic story-telling folk song and also favourite songs of their heroes, enchanting their audiences with music that can make you listen, dance, laugh or even cry.
Since 2014 Redvers has released two studio albums, many singles and the Tumblr/Twitter famous You Can Tell So Much About a Person by the Way They Leave You EP.
2017 will see a return to Europe for the release of Our Little Place, a 12 track studio album, and a DIY tour of coffee houses, living rooms and street shows. (Please get in touch if you would like them to come to your town or city)
You can find studio and live performance content on YouTube, hear the full discography on Spotify and iTunes and for those who like a physical record you can find signed vinyl and CDs on Redvers Bailey's Bandcamp page.
http://www.redversandmelissa.com/
https://www.youtube.com/user/redversbailey
Redvers and Mélissa on Facebook
Last played:
The Grey Lady Music Lounge, Wednesday 12th July 2017
Mangetout Recovery, Redvers and Melissa, Ian Knapp, The Varlies