Rebecca Stoneham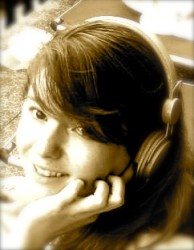 click to enlarge
Rebecca is a 23-year-old singer-songwriter and composer from Tunbridge Wells. She started performing at The Grey Lady in 2008 having won a competition at her school, and continued to perform there in a regular slot for two years, whilst enjoying a high level of involvement in the general local music scene.
For the past four years Rebecca has lived in Oxford, studying her undergraduate degree in Music at Oxford Brookes University and is now completing her masters in Composition and Musicology. During this time, she has been in a band, 'The Lanterns', performed in several musicals, an opera, and in numerous choirs. This year, she ran a show choir called The Fortune Cookies and was Assistant MD for the Brookes production of Spring Awakening.
As a singer-songwriter, Rebecca is currently working on her debut EP 'Wolves' and is enjoying experimenting with new styles and sounds, drawing inspiration from her very eclectic taste in music and artists such as Brandi Carlile and Emma Stevens.
Last played:
The Grey Lady Music Lounge, Sunday 12th July 2015
Alex Beharrell, Rebecca Stoneham, Lily Denning, Richard Sanford