Phoebe Ray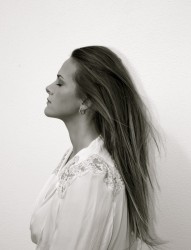 click to enlarge
Phoebe Ray is a 23yr old singer/songwriter based in London and the South East. She is currently working on developing her music from acoustic folk/pop towards a fuller and more adventurous sound with alternative/rock undertones, and is busy writing her first album.
"I wanted to retain the pure vocals and lyrical focus that I learnt though my acoustic work, but also explore other sides of my personality by stepping out from behind the guitar and really performing as a singer," she says of her new direction.
In January 2012, Chris Evans described her as having the "voice of an angel" after he played her demo 'Enigma' on his Radio 2 Breakfast show, having seen her perform at a private event. Since then she has completed a degree at Edinburgh University and is now pursuing music full-time, gigging regularly in London.
"I grew up listening to a lot of Eva Cassidy and Elton John, but generally I have quite a diverse taste in music. I can be influenced by any genre and am currently enjoying artists like Lana del Rey, The Weeknd, and Jessie Ware. I'm never happier than when I'm singing… it's when I feel most myself!"
http://www.phoeberaymusic.com/
http://www.youtube.com/phoeberaymusic
Phoebe Ray on Twitter (@phoeberaymusic)
Last played:
The Pheasantry, Pizza Express, Thursday 28th February 2013
The Paul Dunton Ensemble, Sarah Lillie + band, Phoebe Ray