Philip Clemo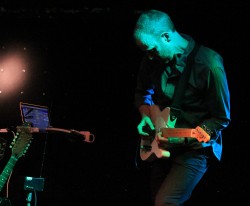 click to enlarge
Philip Clemo is a trans-disciplinary artist working across composition, sound design and film. His work is "mesmerising" (The Times), "startlingly original" (The Observer), "intricate, immersive" (Mojo) and "beautiful, transcendent" (BBC).
Clemo builds complex sound worlds, exploring form, improvisation, ambience and electronica. He has released six critically acclaimed albums, including 2016's Dream Maps, described by Jazzwise as "Symphonic ambience... echoes of... Brian Eno and David Sylvian. Miles' Sketches of Spain reimagined by Jon Hassell". Over 20 years Clemo has worked with a diverse group of musicians including Arve Henriksen, Byron Wallen, B J Cole, Henry Lowther, Evi Vine and Cleveland Watkiss.
Clemo's visual work has been shown around the world, including at Cannes, V&A Museum and Eden Project. His multi-sensory Breath Project, which he recently presented in a TEDx talk, explores our relationship with the diverse environments we inhabit. Breath utilises cutting-edge technologies to capture extraordinary imagery from the world around us.
Philip Clemo on Twitter (@PhilipClemo)
Last played:
Philip Clemo's Dream Maps Live, Wednesday 2nd August 2017
Evi Vine, Philip Clemo