Pete Gardiner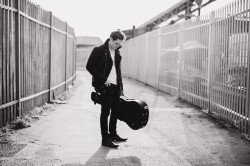 click to enlarge
Pete Gardiner is a rarity, a true songsmith, a poet who sets his stories to music. Growing up in Northern Ireland, there was no shortage of subject matter for Pete's unique ability with words. Pete writes about doomed, alcohol fuelled love affairs, our celebrity obsessed culture, vanity, greed, violence and lust with a style and passion inspired by his songwriting heroes Bob Dylan, Leonard Cohen and Bruce Springsteen,
Before relocating to England, Pete's independently released Eps and singles gained substantial support from regional BBC Radio and since then he has won a big following both for his live performances and his inspiring lyrics which are always praised at his gigs.
Pete and producer Pol Brennan of the band Clannad, co-wrote the title track for the movie 'Property of the State' which premiered at the Galway film Festival prior to going on general release.
American song plugger Gil Grand discovered Pete online and, impressed by the storytelling aspect of the lyrics, is now helping Pete write for established artists in the States.
Now living in Kent, Pete has hooked up with the London based music company Animal Farm who's MD, Ville Leppanen, saw Pete perform and was so impressed that he immediately asked to work with him. Pete is now recording in their London studios.
Pete performs regularly around the south east. Attending one of his recent gigs, Dave Pegg, of Fairport Convention, said this of Pete: "I was very impressed by his performance, his lyrics reminded me of Bob Dylan, Loudon Wainwright and Al Stewart' – Praise indeed!
https://www.petegardiner.co.uk/
https://www.instagram.com/petegardinermusic/
Pete Gardiner on Twitter (@thepetegardiner)
Last played:
The Grey Lady Music Lounge, Wednesday 4th March 2020
Pete Gardiner, James Medhurst, Red, Green & Blue