Pete Falloon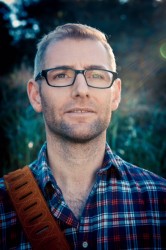 click to enlarge
Exmouth, Devon based multi-instrumentalist and singer/songwriter Pete Falloon launched his debut album Reed In The River on 25 November 2016. He's supported Britpop legends Dodgy, and UK funk heroes The Blockheads. BBC Introducing In Devon said of his live session "Beautiful vocals, haunting, heartfelt lyrics and just exceptionally constructed songs...WOW!". The album has received great reviews and widespread radio play from the UK, USA, Netherlands and Canada:
"Beautiful folk pop" - Folk Radio UK
"Lovely"...- R2 Magazine
"absolutely stunning" - Charlie Ashcroft, Amazing Radio.
"Serious folk-pop hit potential" - Americana UK.
"Lovely"..."Delicate and appealing folk-pop" - R2 Magazine
Chris Hawkins has given Lay Down In The Morning Light several plays on BBC Radio 6, saying of the track:
"As beautiful as they come.. proper craftsmanship songwriting.. Simon & Garfunkel meets the Byrds.. capturing daybreak quite perfectly".
"Absolutely gorgeous.. it's elegant, it's thoughtful, it's optimistic too"
Similar to the self-styled Paisley Overground movement pioneered by bands such as Co-pilgrim and The Dreaming Spires, Pete's music draws a line through many of the classic folk/pop acts of the psychedelic era such as Simon & Garfunkel, The Byrds and James Taylor, to modern greats such as R.E.M., The Stone Roses as well as taking in influence from more contemporary acts such as Canadian Americana band The Barr Brothers.
On the subject of the influence of the spectacular, idyllic beauty of the West Country in his music, he says that "the music is definitely influenced by my love for the natural environment, and inspired by living in Devon - the moors, coast, countryside, rivers and skies here are something very special".
Reed In The River was produced by Pete's brother Matthew Falloon, mixed by Tim Wills (Nick Cave and The Bad Seeds/The Cure) and mastered by Pete Maher (Patti Smith/Jack White). Reed In The River was recorded over three four-day sessions at the vintage-equipped, hit factory Vale Studios in Gloucestershire. The band included Pete Falloon on acoustic/electric guitars and mandolin, Matthew Falloon on bass/guitar/mandolin/wurlitzer and Paul Everest on drums/percussion. Pete plays live solo, in a duo (with Matt Palmer, or his brother Matthew, on guitar), and as a 3 piece or 4 piece band (adding Mischa Bray from The Orange Circus on mandolin to the studio band).
The album is now available to stream and download on digital channels (iTunes, Amazon, Tidal, Deezer, Spotify etc) and as a limited edition gatefold CD from his bandcamp site.
http://www.brothersfalloon.com/
https://petefalloon.bandcamp.com
Pete Falloon on Twitter (@PeteFalloon)
Last played:
The Grey Lady Music Lounge, Tuesday 30th May 2017
MusicStation Presents, Pete Falloon, Isabella Coulstock, Orfila