Paul Gunn Collective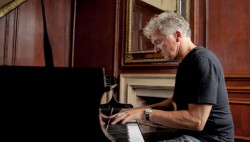 click to enlarge
Paul Gunn Collective
Paul Gunn is a self-taught pianist and composer. He worked as a mime artist, gymnast and actor in the theatre before setting up
retro-cabaret band Worsted with David Rohoman and Leslee Booth which toured from 2012 to 2015 playing at Marlborough International Jazz Festival,
Rye Jazz Festival, Twinwood Vintage Festival and The Pheasantry. He moved to Tunbridge Wells in 2016 and formed this new band. His new album is called
'A Beekeeper's Garden'
Helen Thomas (Cello) plays with The London Philharmonic Orchestra. She toured China earlier this year and has just returned from
New York where she performed at The Lincoln Centre. She has also performed and recorded with: Wynton Marsalis, Ed Sheeran,
Status Quo, Bryan Ferry, Burt Bacharach, Glyndebourne Opera and The Paul Dunton Orchestra.
Leslee Booth (Bass) was born in Madras and trained at The Musicians Institute, L.A. He toured with legendary jazz singer Billy Eckstine, and has
played with top names in the Jazz and Pop industry including Gloria Gaynor and Freida Payne. He is in great demand for recordings and gigs.
David Rohoman (Drums) was born in Guyana and came to Britain as a child where he took up drumming as a form of physiotherapy for
his legs. He played with Ian Dury before switching to the London Jazz circuit and appearing with many top names including Django Bates
and Mornington Locket.
Bjorn Dahlberg (Sax/Clarinet) is based in Hastings and plays with his own Retro-Jazz Dance band Bjorn and The Brothers of Rhythm.
He appeared with Maria McAteer in the award winning show My Friend Lester, about the relationship between Lester Young and Billie Holiday.
He has recorded for Mick Jagger, Arthur Brown and The Swing Ninjas.
http://www.paulgunn.bandcamp.com/
Last played:
The Grey Lady Music Lounge, Wednesday 8th May 2019
KAY, Paul Gunn Collective, Isabella Coulstock