Olivia Jasmine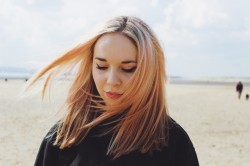 click to enlarge
My Dad always told me: fall in love with your job and you'll never work a day in your life.
I've been writing poems since the age of five, and I've seen the meaning transform from fairies to angsty teenage thoughts and my discovery of how society is constructed.
I started with covers to determine my sound and I quickly became transfixed with the beauty of acoustic folk influenced music - think Bon Iver with hints of Fleetwood Mac. So I began to make my poems into songs, writing my first original ('Written Words') when I was eleven. I instantaneously fell in love with the process of writing my own material rather than performing others; I hardly put the pen down.
In the present moment, I have roughly forty originals catalogued, with the collection growing each day from chord structures and lyrics being pinned into my phone on an hourly basis. I've experimented with composing more uplifting and anthemic tunes, inspired by the formation of my band, The Edge.
I've fallen in love with music time and time again, and for that my Dad was right: I'll never work a day in my life.
https://www.youtube.com/channel/UCFJ98A-r1Pd3dIWvzlUNVIg
Last played:
The Grey Lady Music Lounge, Tuesday 1st March 2016
Jack Burns, Livy Jasmine, The Alley Devils