October Rising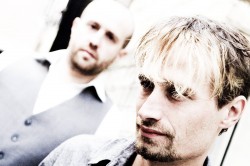 click to enlarge
'October Rising' are Mike A & John, long-time collaborators who played, toured, wrote and generally caused mayhem together as part of Indie Rock outfit SilverSky.
During their time in SilverSky they played in some of the best & worst venues in the country, with gigs at The Shepherd's Bush Empire, Carling Academy Islington, The Borderline, The Garage, Guilfest & The Rhythm Factory as well as tours to Ireland & France.
The band shot 2 videos, released a bunch of EPs worldwide, had some scorching reviews (and a few nasty ones.....) and had radio play on BBC London & BBC Kent as well as student radio across the country. At one point a track by the band was playlisted on 30 Australian record stations at the same time......quite some feat for an unsigned and relatively unknown band.
Despite the break-up of SilverSky in early 2009, Mike & John managed to stay good friends and whilst contemplating life outside the band they started doing acoustic versions of a few tracks they'd written together at open mic nights.
The sound of 'October Rising' was born from this period and whilst many of the songs owe a debt to the high-energy legacy of SilverSky, both Mike & John were determined to move on and establish a new direction in both their writing & performing.
The result is beautiful, spirited, acoustic folk-rock played with flair and passion. Elements of blues, country & soul are mixed together with modern rock & pop, whilst a love for acoustic music is tempered by an inability to sit still for long enough to ever be considered a 'proper' acoustic act.
"October Rising play Americana-inspired folk with a current edge and fiery passion like no other act." -- John B @ Reel Concerts
Last played:
The Grey Lady Music Lounge, Sunday 27th June 2010
Aaron David Frith, October Rising, Tom McHugh, Nick Wilson