No Track Record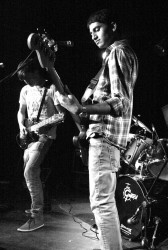 click to enlarge
No Track Record was formed by 18 year-olds Alex Teckkam and Joseph Jayasundera in Tunbridge Wells in 2011. The pair had played music together for many years at the local school they had previously attended and decided to begin playing original songs. Both multi-instrumentalists, having learnt classical instruments from a young age, Alex also contributes as a songwriter, and Joe provides vocals. Although usually a two-piece outfit, No Track Record often feature guest appearances from other local musicians of a similar age.
No Track Record would compare their sound to British alternative rock successes such as Young Guns, You Me At Six and We Are The Ocean. However, they enjoy embracing influence from various genres including ska and indie.
In the future they look to become more established locally and on a larger scale.
More info coming soon.