Niamh McSmith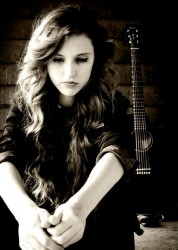 click to enlarge
At the age of 16 I was barely getting my head around Biology revision but super-talented singer-songwriter Niamh McSmith is already starting her assault on the music industry.
Her debut Alone Again is a plaintive yet ultimately uplifting guitar ballad about wooing back a lost lover. The video follows Niamh with tumbling pre-Raphaelite curls, denim jacket and Amy Winehouse-esque eyeliner, playing her guitar around the city and eventually befriending a hunky busker.
The sweet soundtrack to young romance, Alone Again has a chorus which will wedge firmly in your head… unlike all that stuff about enzymes and photosynthesis.Niamh has just signed to London's Downtown Artists so expect more from her – in the meantime, Alone Again is a gorgeous introduction.
Last played:
The Grey Lady Music Lounge, Wednesday 10th April 2019
Niamh McSmith, The Breaks, Harry Whitty Band