Mulvey's Medicine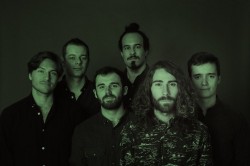 click to enlarge
Mulvey's Medicine are a Jazz/Funk sextet from London. Composed and arranged by Eddie Mulvey. Perfected by The Medicine. Produced by Jorge Arango Kure.
"Jaw-dropping beauty of jazz and vibrant high spirits of funk"
Jake Crossland - Too Many Blogs
For lovers of a tasty groove, heady licks and sweet beats that will canoodle your booty, we bring you 'Ignite' the debut album from Mulvey's Medicine. Featuring an all-star line-up of outstanding players, 'Ignite' is a journey deep in to the sonic planes of Jazz, funk and neo soul. Drawing inspiration from D'Angelo, The Brothers Johnson, Tenderlonious, Tower of Power and of course Funkadelic and Sly & The Family Stone, 'Ignite' is a confluence of classic vibes brought together to create a fresh take on the solid foundations of Jazz Funk.
https://mulveysmedicine.wixsite.com
Last played:
The Grey Lady Music Lounge, Wednesday 21st November 2018
Mulvey's Medicine, David Migden & The Twisted Roots