Mother of Pearl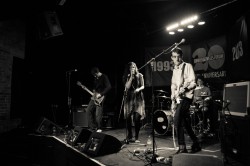 click to enlarge
Mother of Pearl is an experimental rock band based in Kent and Sussex. Taking influences from artists such as: Led Zeppelin, The Cure, Siouxsie and the Banshees, PJ Harvey and The White Stripes.
Formed in May 2013 Mother of Pearl have been scouring the local music scene playing original material and the occasional cover in their live shows. Plans for the future are to release a debut EP in 2014.
Quoted as "They sound a little like 'Siouxsie and the Banshees' met a funky band and had a jam session" Mother of Pearl are unique to the music scene with their raw and organic approach to song writing and pushing the boundaries of contemporary experimental rock. Crazy eyed front woman Kay brings her quirky lead vocals accompanied by a four-piece band of ingenious musicians and songwriters to create distinctive original music.
http://www.motherofpearl.webs.com/
Last played:
The Grey Lady Music Lounge, Tuesday 24th June 2014
Mother of Pearl, Mark Seal, Cracks In The Land, Luke Jackson