Men from Uncle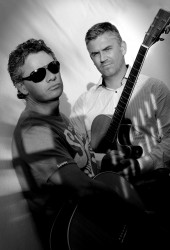 click to enlarge
Men from Uncle are Andy Butler and Mark Paul Perry, who came together as friends having both spent fifteen-odd years gigging the London and UK circuits through the late 80s and into the end of the 90s, Andy with indie pop band Positive Energy of Madness and Mark with British Rock act State of Mind.
Crossing paths having headlined and played the likes of the Marquee, Astoria and many other reputable venues with their respective bands, and through their shared love of music and a friendship born out of their joint wish to live life to the full, the friends started jamming together, finding a mutual respect for musical tastes and enjoying the experience so much that they decided to pick up the live mantle after seeing their creative talents lie dormant for more than 10 years.
Having slipped into a songwriting partnership with absolute ease, the two friends put down more than six tracks and laid down respective demos for the track in a blistering six-week period, several of those songs being played for the first time at this live showing at the Grey Lady.
Influences are almost too broad and wide to mention, both having listened to and soaked up all types and styles of music in their lives, but no doubt what will come through are some heavy rock styles mixed with a pop sensibilty, as Men from Uncle say they are always striving to find that illusive golden tune that can only come from a place described as unknown.
Last played:
The Grey Lady Music Lounge, Sunday 9th June 2013
Steve Dodds, Men from Uncle, The Paul Dunton Ensemble, Goldie Reed