McCrei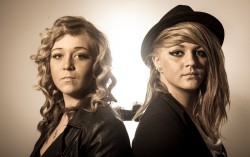 click to enlarge
McCrei was formed in 2012 when two sisters, Leanne and Shannon McCree began sharing their experiences through their song writing and started gigging on the Camden acoustic circuit. Fast forward three years and the sisters have performed at over 250 gigs including the O2 Academy, The Hope, The Cavern, Distillers, Rochester Castle and various other venues throughout England.
In 2014 the record producer Alan Glass, whose credits include Aretha Franklin, Misteeq and The Lighthouse Family, discovered McCrei on Facebook and started co-writing with McCrei. The songs Show Me, Now I'm With You, Shines So Brightly and I'm Missing You were co-written by McCrei and Alan Glass. I'm Missing You is featured on a film called Last Round which is being premiered in London in April and the film is also being submitted to the Cannes Film Festival. McCrei will be performing I'm Missing You live at the film's London premier in April.
In January 2015 the record label Disco Soul Gold Music (DSG Music) heard 'Show Me' being played on a radio station and approached McCrei to discuss releasing their material. 'Show Me', the debut single is being released as a double A side in April 2015 through DSG Music.
McCrei have been invited to perform in Munich and will be playing their first shows outside of the UK in 2015. They are also performing in May at The International Pop Overthrow Festival in Liverpool.
Inspired by an introduction into traditional Soul and Funk, the music takes some direction while staying true to their signature style. McCrei's influences include Alicia Keys, Stevie Wonder, Whitney Houston, Joss Stone and Aretha Franklin.
In December 2014, Leanne and Shannon were introduced through a friend to a musician trio consisting of Tom O.Mitchell, Charlotte Whiting and Neil Cornwell who have since become McCrei's band.
Last played:
The Grey Lady Music Lounge, Tuesday 9th February 2016
Martin Stenning (of The Floodgates), Ant & Fie, Ashley Evans, McCrei