Matt Rivers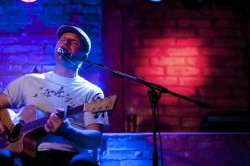 click to enlarge
Matt returns to Tunbridge Wells for a one show tour! His songs and music have taken him all over the world, playing to a diverse selection of audiences in myriad countries around the globe. He is currently living in Tarifa in Spain, the southern-most point of mainland Europe. He is writing new material and playing to international audiences along the coast.
His songs are sourced from his life experiences. They are about overcoming adversity. They are about the human condition. They are about healing and love. They are about consciousness and spirit. He speaks of shared experiences and aims the words and music at resolution. Matt is melody focused, drawing influence from the music of his childhood, such as Lennon, Cat Stevens and Bowie.
His style crosses a few genres, mainly folk, rock and indie, whilst sitting firmly within his own identity. He has been known to play with a band but more often plays solo. Matt has an EP – Some Elsewhere - that was produced and released with the help of the Arts Council.
Last played:
The Grey Lady Music Lounge, Sunday 20th November 2016
Gronk, James Medhurst, The Ackerleys, Matt Rivers