Matt Black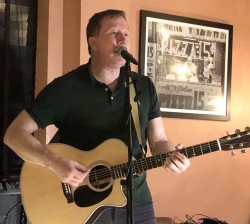 click to enlarge
Matt Black is a singer/songwriter who has been writing music for over 20 years.
Inspired by artists such as David Bowie, Bob Dylan and The Velvet Underground, and more recent acts such as Jake Bugg, Matt's music is melodic with some folk undertones and moments of fingerpicking delicacy.
This is complimented by a sensitive, soothing voice and thought-provoking lyrics.
Matt has been in various bands in the past but now performs solo with an acoustic guitar.
In real life he has two children – one named after one of his early songs – and runs a software business in Tunbridge Wells.
Last played:
The Grey Lady Music Lounge, Sunday 1st March 2020
Jennifer Lee Ridley, Matt Black, Shep!