Markus Holler & Chris Gussman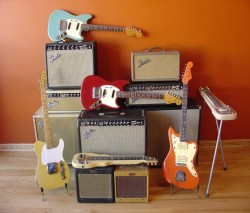 click to enlarge
Markus and Chris have been playing music together since they were teenagers. In the 1980s they'd sit in Chris' bedroom day after day making a mighty racket. Not much has changed in 25 years. They have both played in numerous bands and made several records over the decades.
These days Markus spends his day hunting down rare vinyl records which he sells through his SUGARBUSH RECORDS mail order company while Chris is a Biker Dude who works in the upper echelons of BMW!
However, teenage dreams never fade - and in 2010 Markus and Chris are still making noise, either as a duo or in their sometimes band THE DAYTONAS.