Mark Morriss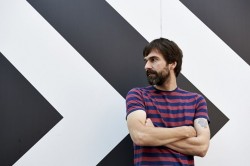 click to enlarge
"You are the scream of a jet / You are a whispered amen/It's not a question of if anymore/It's a question of when…"
'It's Hard To Be Good All the Time"
Can it really be twenty years since Mark Morriss first shimmied into our lives as singer with The Bluetones?
Apparently so. But thirteen hit singles, three Top Ten albums and a collaboration with a national treasure later -more of which shortly- - his ability to sieve poetry from the colander of every day life remains unique.
"I always try to add little things that most songs wouldn't use," he says of the lyrics on his remarkable first solo album 'proper', A Flash Of Darkness.
"If I can squeeze a mention of Bergerac into a song (as he does in surefire smash 'Consuela') then I'm happy."
While it might not take Jersey's finest to track down a copy, it's fair to say that the release of Mark's folk-infused solo debut, Memory Muscle, in 2008 was low key, despite string arrangements from the legendary composer David Arnold.
However, it wasn't until The Bluetones split up in October 2011 that he thought seriously about his next move.
"To be honest I didn't know what I was going to do," he says with typical candour.
"So I threw a lot of irons into the fire."
While one of these resulted in him writing the music for David Walliams' audio books ("great fun"), he was still writing songs. Only this time, with a view to other people singing them.
"It really freed me up. But the songs I came up with were so personal I realized they might be difficult for anyone else to sing them."
Rather than let the songs, as he puts it, 'end up on the shelf', Mark headed to 'a shed in Surrey' with long term Bluetones collaborator Gordon Mills. As the sessions progressed, so the pent-up frustrations of the past few years poured out.
"Personally I went through quite a difficult time, and is often the way, that was translated into the songs."
If there's a confessional, cathartic edge to A Flash Of Darkness, it also comes with tunes of tungsten-strength. 'Guilty Again' is a conscious nod to '70's soft-rock icon Andrew Gold, while 'This Is The Lie' splices a jaunty sea shanty against some brutal self-analysis.
Throw in a pair choice covers – a dreamy take on The Shins' Pink Bullets', an acoustic overhaul for Kavinsky's electro noir 'Nightcall', best known from the 'Drive' soundtrack- and you've got an album which proves that a dark night of the soul often brings artistic illumination.
"The album title refers to that moment when you've just turned off the light and everything remains semi-lit for a split second," says Mark, referring back to his lowest point.
"It's a revelation of a bad thing, rather than a good thing.
Whisper it, but Mark Morriss' light bulb moment might just have resulted in his best album yet.
Paul Moody
http://www.markmorrissmusic.co.uk/
Last played:
The Grey Lady Music Lounge, Sunday 15th March 2020
Paul Crisp, Jacob Norris, Mark Morriss