Mad King Ludwig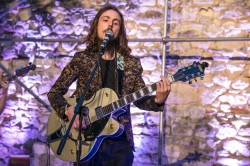 click to enlarge
A recovering former monarch of Bavaria, Mad King Ludwig is a musician, writer, performer and madman supreme. Currently residing in Southampton, UK, he has played around the UK with The Mojo Co., selling out venues across the South and playing at Isle of Wight, Victorious, Common People, How The Light Gets In and Rhythmtree festivals. He has worked with Grammy-winning producer Liam Watson (The White Stripes, Madness, The Kills, Tame Impala, James Hunter), and has been featured on Tom Robinson's BBC 6 Music show.
Possessing the voice of a fired-up Tom Waits-esque Southern preacher and the physical frame of a Culture Club reject, Ludwig is a striking sight and sound to behold when performing. He has shared the stage with the likes of The Urban Voodoo Machine and Tankus the Henge, and has amassed many a mad story to tell on his musical travels.
His début album, Do What Makes You Happy, is due for release on 13th January 2019, and showcases Ludwig's broad, eclectic and mad songwriting ability, as well as his octopus-esque musical talent – he sings, plays guitar, piano, double bass, saxophone and kitchen percussion on the record. The album is being taken on a tour of the UK in January/February 2019, with Mad King Ludwig bringing his mad new band in tow. Stef Croot (Mad King Ludwig and the Mojo Co., Yeeha Granma) is on guitar, harmonica and other curiosities, Sian Unwin (The Circadians) on double and electric low notes, and Paul Gunter (Stomp! The Musical) on strange percussion. Expect the unexpected.
http://therealmadkingludwig.co.uk
https://www.youtube.com/channel/UCP0VsGOTSIWIHchGfq239Rg
Last played:
The Grey Lady Music Lounge, Wednesday 6th February 2019
Will Locke, Mad King Ludwig, Marie White