Luke Jackson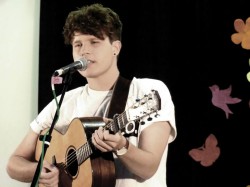 click to enlarge
Luke is a rising 19 year old Roots singer/songwriter from Canterbury, Kent, and 2013 saw him nominated for both the Horizon Award for Best Emerging Talent and the BBC Radio 2 Young Folk Award.
With a bold, show stopping voice and honed guitar skills, Luke is a confident and captivating performer demonstrating an astonishing maturity. He has been making ripples on the live acoustic scene supporting such luminaries as Show of Hands, Paul Brady, Chris Wood, Steve Knightley, Karine Polwart and Oysterband. Last autumn he made his debut in Scotland, winning praise for a stand-out voice, songwriting skill and stage presence that completely belies his years.
His debut album More than Boys, produced by the acclaimed Welsh singer-songwriter Martyn Joseph, launched at the Shrewsbury Festival, has been receiving plaudits from critics and airplay on numerous radio stations and 2014 sees the release of his accomplished follow up album, Fumes and Faith, which Luke has co-produced with Cardiff-based American record producer Mason Neely It's a belting roots and blues infused album of 11 original songs and his voice is richer, his fan base is bigger and he has delivered startling performances on the UK festival scene, from Cambridge to Sidmouth and The Great British Folk Festival.
With a wealth of finely-observed narrative songs, The album emphasises the exceptional maturity and versatility of one of the most exciting young singer songwriters and live performers on the scene!
"A great singer, a great songwriter and a really commanding presence" – Mike Harding
"A fantastic voice, a great year and a terrific new album" - Simon Mayo, BBC Radio 2
"For a while after Nic Jones and Chris Wood there was a big gap and you wondered where the next generation was coming from – now Luke's the next guy" – John McCusker
"A huge talent is emerging" – Acoustic Magazine
"An affecting and highly promising debut album – one to watch" – Daily Telegraph
Last played:
The Grey Lady Music Lounge, Thursday 7th December 2017
Aid Lewis, William Thomas, Sean Manuel, Luke Jackson